Leasing vs Buying A Ford in New Jersey

Lease vs Buy: Which Ford Financing Option is Going to Be Right for You and Your Budget?
The new Ford lineup offers a huge range of great new options near Watchung or Edison, and if you've got your eye on a new F-150, Edge, Explorer, Fusion, or Mustang, you're probably starting to think about how you're going to get one for yourself.
Fortunately, financing plans at Liccardi Ford make it easy to find a solution that works for you.
We compare some of the key takeaways--good and bad--to know about Ford leases in NJ and auto loans for both new and used cars. Get your learn on, and be sure to contact us if you have questions.
Leasing a Ford: Pros & Cons
Leasing is nothing new in Piscataway Township--but it's definitely been getting more popular. Read pros and cons of leasing a Ford here to see if this option will be right for you.
Upgrading at the End of the Term
Upgrading to a new lease at the end of your current Ford lease in NJ is really easy. All you need to do is schedule a time to come in to Liccardi Ford, pick out your new car, truck, or SUV, and choose the terms and conditions of your new lease. We'll take charge of your previous lease car and give you the keys to the new ride. It's fast, simple, and fun, and it lets you get into a brand-new car every two or three years.
Monthly Payments
Since a lease is, in a way, a loan for a portion of the vehicle's total cost, it's a lot cheaper per month to pay for a lease than it is to pay for a loan. If your budget only lets you pay about $250-300 for vehicle financing costs, you can get a lot more for the money when you lease vs. buy--that means you could get a bigger SUV, a fancier sedan trim, or even get into a new truck, all without going over budget.
Annual Mileage Limits
One potential downside to leasing is that a Ford lease does come with annual mileage limits that are reflected at the end of the term. Why? Your lease payment is based on an estimated depreciation (that's really what you're paying for) that is created off of how many miles will be on the car when you're done. For a standard 36-month, 12,000-mile/year lease, that means you can drive a total of 36,000 miles without incurring extra charges. Leases are flexible, though, and you could customize a lease to be able to drive up to 20,000 miles a year.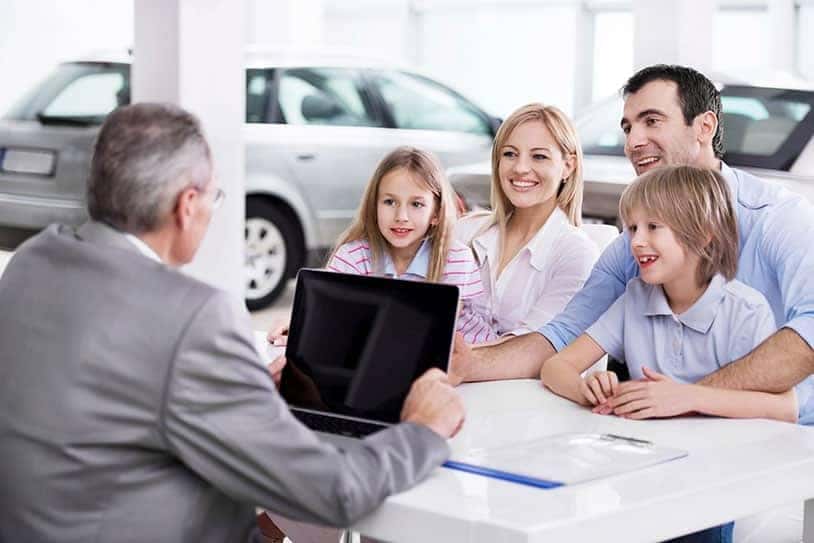 Car Care and Maintenance
When you turn in your lease car, expert Ford technicians will look over the exterior, interior, and everywhere to gauge the condition. The cost of a lease comes with an assumed amount of wear and tear, and if you've put your vehicle through the wringer during your lease term, you might find some extra charges on your paperwork. However, since most lease terms fall under the Ford New Vehicle Warranty, car care can be more affordable because repairs will usually be covered.
Buying a Ford or Used Car: Pros & Cons
Financing is the most common option that we handle, mainly because used-car loans are common around Westfield, NJ, and plenty of local drivers want to make the investment of purchasing. Read pros and cons of buying a Ford here to see if this option will be right for you.
Upgrading at the End of the Term
Upgrading to a new car when you've finished paying off your auto loan is still pretty easy at Liccardi Ford, but the process is a little different. Unlike with leasing, where you're turning in the car, you're trading-in your vehicle if you've bought it and paid off the loan. If you've taken good care of the interior and kept up with maintenance, your car could be worth more than you think, and it'll help take a big chunk off of payments on your next truck or SUV. But, if you've been hard on your vehicle, the trade-in value might be lower than you'd like. We'll help you get the most possible for your trade if you choose to upgrade at the end of your loan term.
Monthly Payments
Since you're financing the entire cost of the vehicle when you take out an auto loan in NJ, your monthly payments will understandably be higher. However, that's only a con in the short term--in the long term, every payment you make on your auto loan is a step toward building equity. When you've paid off your loan, you own the vehicle fully and can do anything with it, including selling it for cash to help offset another, future loan.
Annual Mileage Limits
The big pro: there are no mileage limits. If you're planning on selling the vehicle you buy and trading up to something newer a few years down the road, it's not a bad idea to try to keep the miles lower so you can maximize its value in the long-term. But, since you are the owner of the vehicle, there's nobody to tell you not to plan a road trip from NJ to Cali and back!
Car Care and Maintenance
Your car will be covered for repairs and unexpected maintenance under its manufacturer's warranty until the coverage runs out. You'll be responsible for general car care during the loan term, and for repairs once the warranty runs out, but since you're the legal owner of the vehicle you won't have to worry about wear-and-tear fees or the like.
What works best for you?
Everyone has different daily driving needs, which is why options are so important! Still unsure of whether you would be better off leasing a vehicle for a set period of time or financing outright? No worries! You're not alone. Our finance team is here to dive deeper into your options with you.
Keep in mind that while the information above is intended to help you understand the options broadly, there are other variables involved, including incentives and rebates, which is why it is important to sit down with our financing team. You could end up saving thousands! The men and women who work in our finance department are eager to help you! Contact us today!